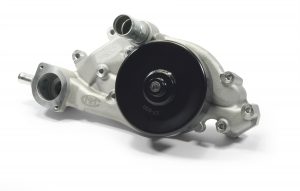 Melling has recently added water pumps to our line of products available –
There are 7 part numbers currently available right now:

MWP-500 GM 4.8L, 5.3L, 6.0L (PDF)
MWP-501 GM 4.8L, 5.3L, 6.0L, 6.2L (PDF)
MWP-503 GM 5.7L, 6.0L, 6.2L, 7.0L (PDF)
MWP-507 FORD, LINCOLN, MERCURY 4.6L & 5.4L (PDF)
MWP-508 FORD 6.0L POWER-STROKE  (PDF)
MWP-513 FORD/ LINCOLN/ MERCURY 4.6L SOHC (PDF)
MWP-521 DODGE / RAM / FORD 6.7L CUMMINS (PDF)
MWP-522 DODGE / FORD 5.9L CUMMINS  (PDF)
Melling has been a leader in oil pump technology for over 70 years and used that experience to design, engineer, and manufacture these new water pumps!
There are 3 key components which set the Melling water pumps above and beyond in quality vs other products in the market.
Superior Bearing Seals
The bearing sealing has double lips to avoid coolant vapor intrusion (from the mechanical seal normal operation condition) and for preventing the elements to get in contact with the bearing grease. The seals are made of HNBR rubber. HNBR is used as a plus for temperature. The high engine RPMs can elevate the seal lip temperature that is protected with HNBR material. These sealing characteristics guarantee an extra life for the bearings and consequentially for the water pump.
Superior Mechanical Seals
We have chosen the silicon carbide (ceramic), and hard carbon for the mechanical seal contact rings materials. These materials are the best ones regarding durability and ability to work with severe temperatures. During the engine warm-up period in the winter, the mechanical seal is submitted to thermal shocks every time that the thermostat opens and the extremely cold coolant enters the system.
Superior Pump Gaskets
The gasket is made of EPDM rubber that is best material available for the temperature range and coolant contact. This is also the OEM choice for water pump gasket applications.
Visit your local auto parts retailer or online distributor to order a Melling water pump for your GM LS engine!