NEW High Performance Valve Spring Mini Catalog
Click Here to Download
NEW High Performance Pushrod Chart
Click Here to Download PDF
F0r best viewing on this website page, use the buttons on the bottom of the chart to ENLARGE by clicking the "+" button.
Chrome Moly Valve Spring Retainer Specification Chart
NOTE: There are many tolerances that effect the final location and spring height. The relative height dimension is for comparison purposes of these retainers. We took a stock SB Chevy retainer with our 45103 valve and 47601 locks and measured from the rocker arm end of the valve to the spring seat on the retainer. We then took the same dimensions for our 11/32" stem retainers. The 47518 is the same as the stock retainer and is shown as zero. The relative height tells how much the assembled spring height will be changed if you changed from the 47518. The 47501 would shorten the height by .070" while the 47505 would increase it the same amount. The same applies to the 3/8" stem retainers except we used a stock BB Chevy retainer with our 45105 valve and 47300 locks as a starting point.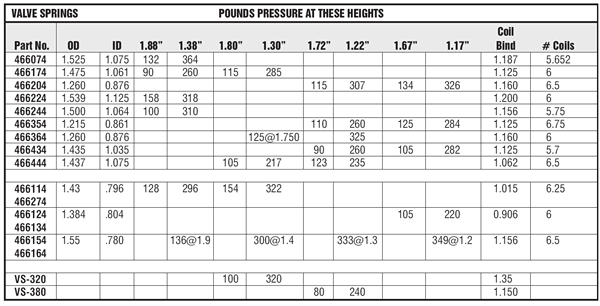 All numbers are nominal
Springs should be checked in every application
Springs with dampners should be oiled prior to testing and installing
Actual coil bind will vary because of the tolerances in the wire diameter
Coil bind can be checked by compressing the spring in a vise and measuring
Valve open height should be coil bind plus .100 or more
Coil bind plus .050 has been used but the life of the spring will be less